If you're any type of business, having reviews online is one of the most important things you can do for your business. However, the question always is, "How do you get Google My Business reviews?" And then the follow up questions is if you have reviews, "Why are these reviews important?" Let's dive into this question.
Google My Business Overview
Google My Business is a free service operated by Google that gives business of all sizes an opportunity to show up in a special panel on the right hand side when someone searches directly for your business.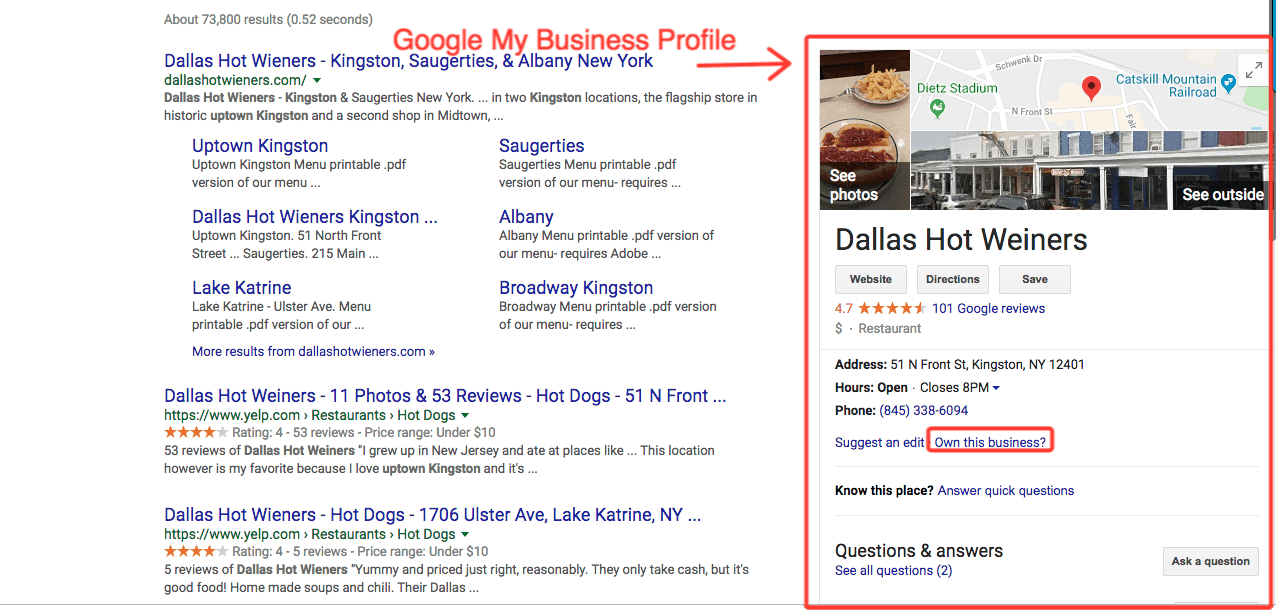 It's an opportunity to control the conversation, improve your overall trust, and encourage people to reach out to your business. There are several different components of Google My Business. First is your actual listing that lists your name, address, phone number, website, hours, description, etc (1. on the below image). Second is the photos section, where anyone can upload photos of your business (2. on the below image). Third is posts, where you can create special, short posts about your business (usually a special offer or an event that you're holding) (3. on the below image). Fourth is questions and answers, where you can directly respond to questions someone has about your business, and work to convert them into a customer (4. on the below image. And, fifth is reviews. Anyone, anywhere, can leave a review of your business, whether they were ever actually a customer or not (5. on the below image).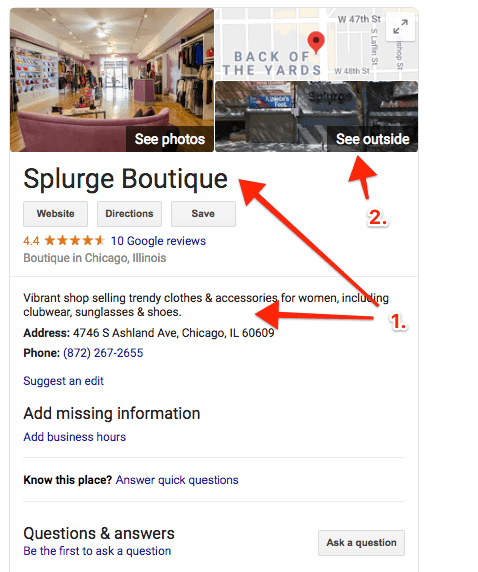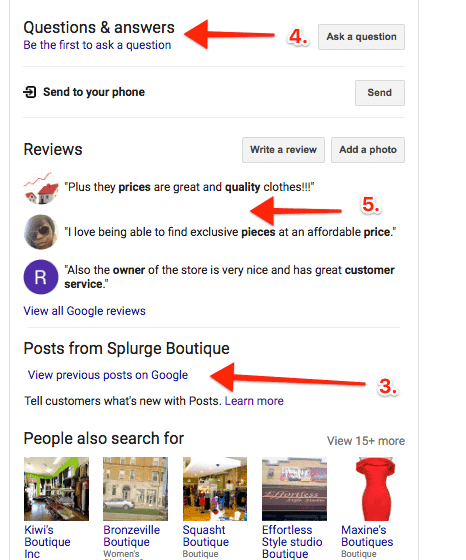 Today we're going to explore the reviews portion.
Google My Business Reviews
A Google My Business review is made up of two components, the star rating and the textual review. In order to leave a review, an individual just has to be signed into Google Chrome. The review will display their profile picture, name, and (if you click on their name) where else they've reviewed.
Within the review, someone can just leave a star rating and not leave anything else in the text field. Most businesses reviews will be of this type. If you're lucky, the reviewer will also leave you an actual review of your business and provide some feedback, either positive or negative.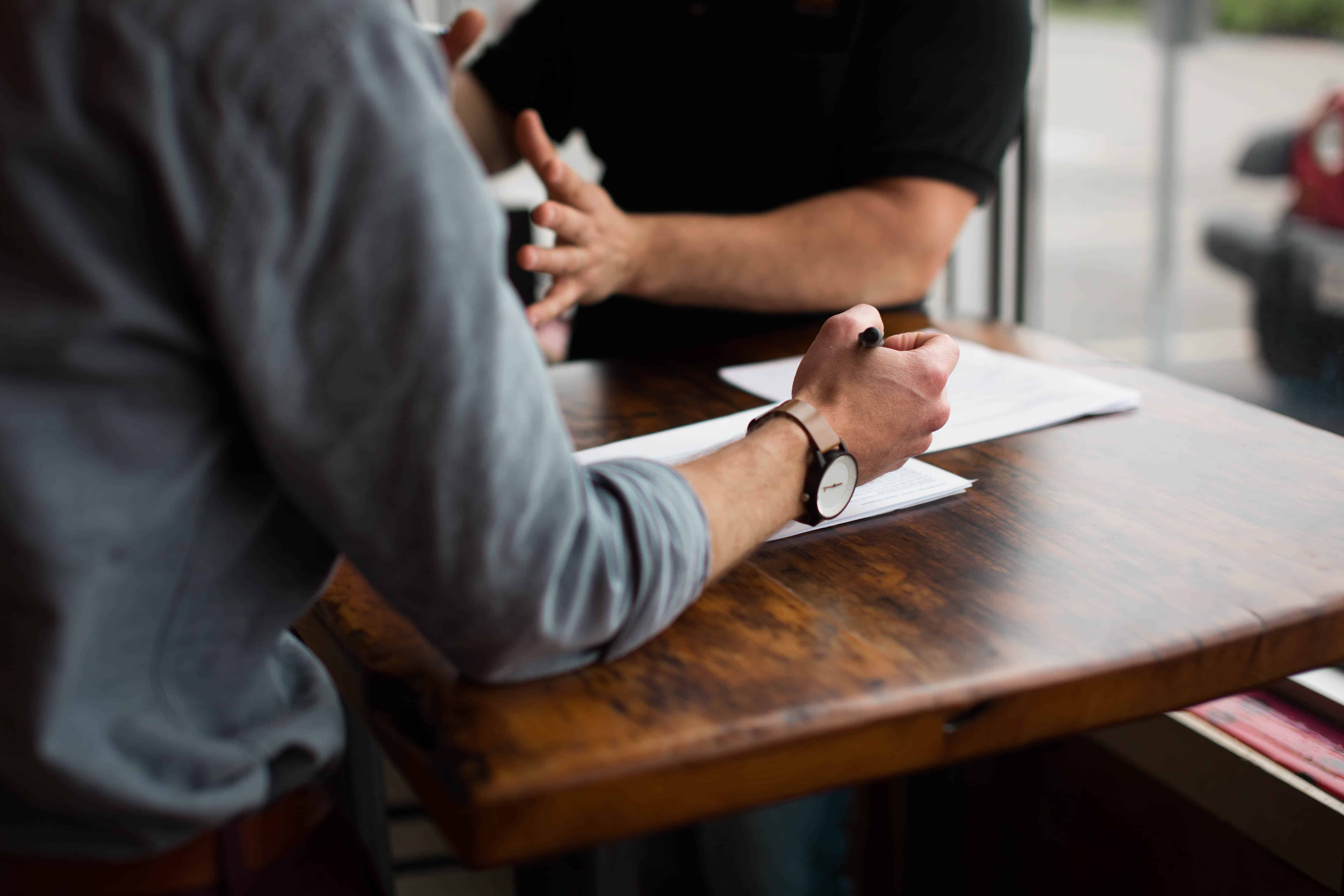 While the topic of review management and monitoring your online reputation is a topic for another post, you should respond to every review, whether it's positive or negative. If the review is positive, respond by thanking the individual for the review and welcoming them back. If the review is negative, address the problem, take it offline (don't get into an argument with someone online) by giving them a customer service email address, and most importantly, be courteous. The likelihood of someone responding to your response on a negative review is slim to none, but the response is not for the original reviewer, but rather for potential customers who will be curious to see how you handled the situation.
How to Get Google My Business Reviews
While you can't reward people for leaving a review (as it's against Google My Business's Terms of Service), you can certainly ask and solicit reviews of past and current customers. Here are some ways to get reviews:
Ask customers upon final payment: If you're in a service-based business where customers are submitting multiple payments, ask for a review upon final payment. You can send the final invoice to the customer, and within the email that goes out include a line at the end stating something to the effect of, "Thank you so much for your patronage. If you're happy with my service, can you leave me a review here" and include a link to your GMB review page.
Ask customers when you ship a product (can even include a card with the shipment): Similar to if you're a service-based business, you can add a line into the shipment email letting them know that their order was shipped and asking them for a review. Another creative way to do this is to include a review card inside the package before shipping. You can use a URL shortener to shorten and brand your Google My Business review URL. This is a great way to exceed your customer expectations and connect on a more personable level.
Email old customers (as long as you have their permission to market to them): As long as you've ethically collected the email addresses of your previous customers (and you have their permission to email them) you can reach out to them and ask them to leave you a review on Google My Business. Start with the best customers (the one's you feel that you connected the best with) and work through the list.
Leave a card on your front desk (with a sign): If customers come into your place of business, you should consider leaving a stack of review cards and a sign asking customers to leave you a review. Shorten the URL and add the shortened link to the card to make it really easy for customers to find and review you.
Ask people on your website: If you have a review/ratings/feedback section on your website (which I highly recommend including) you can feature and showcase what other people have said, and at the same time, you can ask people who haven't reviewed you to leave feedback.
Redirect letters of thanks: If someone sends you a letter thanking you for the service/product that you've provided them, reach out to them to thank them for sending you the letter and ask them to leave a version of their review on Google My Business. Chances are they will oblige your request because they are extremely happy with your business.
Use social media: People enjoy being social, so as a part of your social media calendar, include posts where you ask customers who follow you to leave a review. Again, shorten the link to your GMB review page, and share that in the post.
Why are Google My Business Reviews Important?
Reviews are critical for your business, and can often mean the difference between succeeding in business and failing. Google My Business reviews are visible in the Google Search Results. Since 74.54% of the world uses Google as a search engine, this means the majority of your customers (when searching for your business) will see those reviews as one of the first things they notice about your brand. Whether those reviews are good or bad, it will have an impact on your business.
Reviews are also important to help you stand out from your competitors. Oftentimes, searchers are looking at the sheer volume of reviews and what the average rating of those reviews are. While quantity is never to be desired over quality, if your competitors have hundreds of reviews, and you have only a handful, you may want to consider implementing a review strategy to increase your reviews.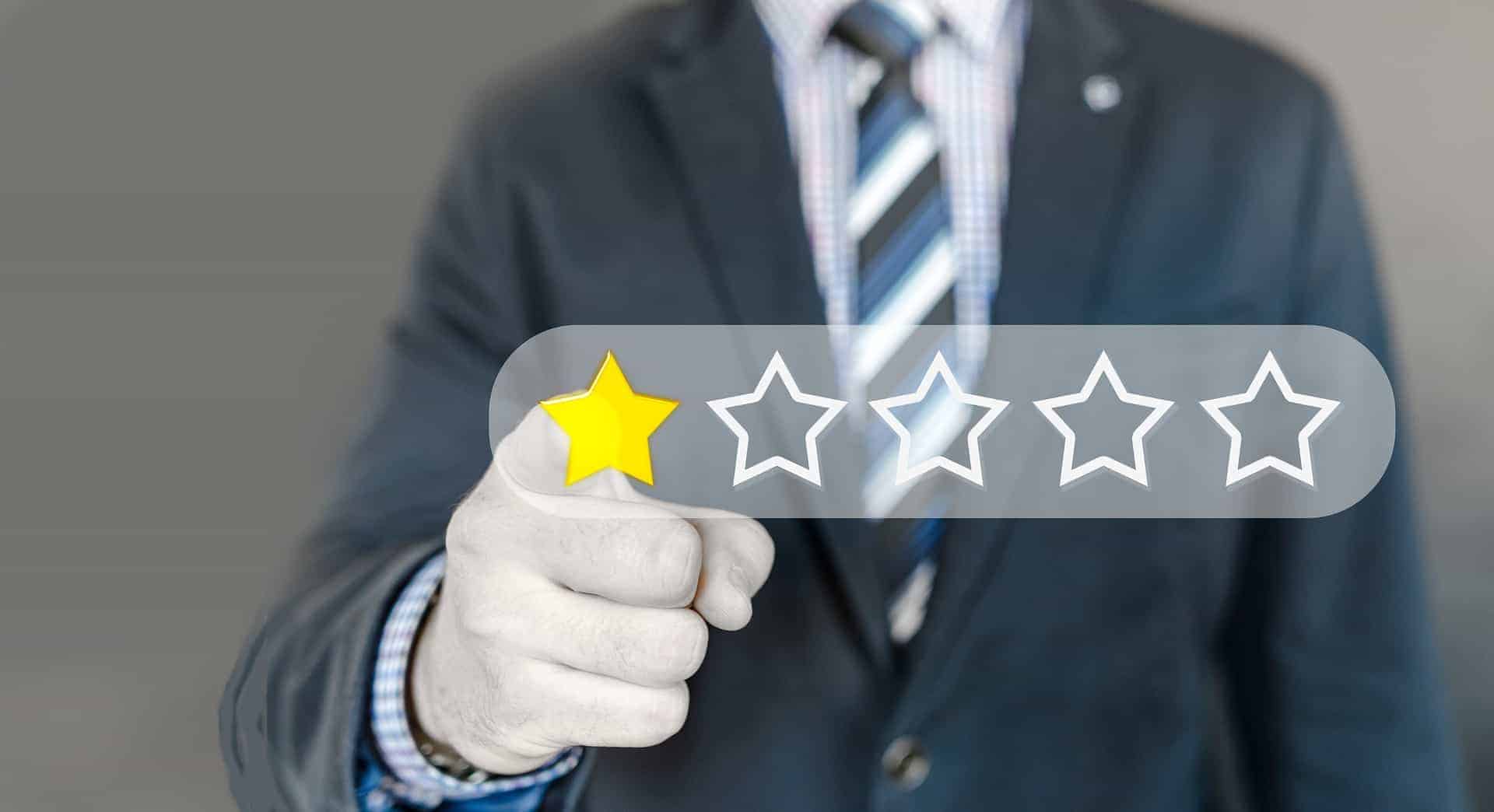 Even if you have negative reviews, these are just as important as a positive review. Your potential customers are looking at how you handled the negative review and whether you've taken the necessary steps to rectify the situation and mend the relationship. This simple act of responding to a negative review with an apology (where necessary, it isn't always), acknowledging what the other person is feeling, and offering them a solution (taking the conversation offline) is the most effective way of dealing with a negative review.
Are there any ways you use to solicit reviews that I didn't mention above? If so, please comment it below.
Please follow and like us: